This weekend Hubs and I embarked upon a trip to Wisconsin to join his parents and family and friends in a Brunner camping trip!
Well, I think it's camping. Camping for me is sleeping in a tent. Camping for other people means hiking up a mountain and gathering nuts and berries and creating a shelter out of pine trees. I'm not outdoorsy by any means. So I believe what we did this weekend was camping.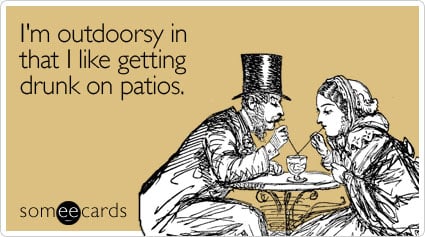 ain't it the truth?
Anyway, Mike's parents and a group of their friends like to travel around to different campgrounds in Wisconsin during the summer and park their RV's for a weekend, cook some good food, drink some beers, and have a relaxing time.
This time we managed not only to reunite with his parents, but with Mike's step-sister and step-brother, and their respective squeezes. One big happy family reunion!!
I was actually pretty excited about it. All "the kids" in the family really do get along really well, we spend a lot of time just cracking each other up, and it was great to see everyone and not have to do a whole lot besides sit in a foldable chair and drink beverages while soaking up the sun. And watch my brother-in-law comb his curly mop into a mushroom-style 'fro.
Clearly we were totally roughing it. Pooltime with the fam was great, especially since it was about 95 degrees out. We'd all gone to the local flea market in the morning and we were hotsie totsie and all dusty and sweaty.
Pooltime was followed by potluck-style dinner with the whole gang and relaxation.
Saturday night the campground hosted a karaoke night, so we trotted down to the "music hall" to check it out.
I'm pretty sure the two highlights of karaoke were my Hubs getting up to sing "Ice Ice Baby" complete with dance moves, and the muscular young guy who sang a ridiculously off-key version of Carly Rae Jepsen's "Call Me Maybe". Sandwiched in between some of the worst (or best, depending on your perspective) karaoke performances on that side of the Mississippi.
Great weekend! Great fun! Back to work everyone!
P.S. Hubbles is awesome because...he loves to get up and sing karaoke...and always brings down the house.